A warm welcome to Casey's readers! Some of you might remember me from August, the first time I co-hosted the Friday Fresh Faces blog hop with Casey.

Don't forget to link up again today!

I wrote a special post that day just for y'all, about how I'm totes not a lifestyle blogger.
Remember the #1 reason? About being too personal and too controversial? I've already proven myself to be both this month. First I got red wine drunk and wrote about my best friend. Then I cried after overhearing rape jokes in a game of Cards Against Humanity, so I blogged about my feelings on it.
But today I'm sharing something that's both new and the same.
For the last several months, I've been slowly reading A Year of Biblical Womanhood by Rachel Held Evans. When reading nonfiction books for pleasure, I tend to read them slowly, partly so I don't get bored, and partly so I can spend more time focusing on the book, absorbing its lessons.
I bought her ebook in October when it was one of the 100 books for $3.99 or less. I'm obviously addicted to bargain ebooks. I usually read it on my iPad, but sometimes I read it on my iPhone. I don't have my kindle apps synced, but I like how that's affected my reading of her book. Most chapters I've read twice. And by the time I finish this blog post, I will probably have read her December chapter three times.
Why am I reviewing just a chapter of a book, instead of the whole book? And why am I reviewing December, aside from the obvious?
I haven't finished reading RHE's book
so I couldn't review it in full even if I wanted. But more than that, each chapter is so different, and so thought-provoking, and so inspiring, that writing a review for the entire book would either be the longest book review of my entire life, or devoid of my emotional reaction to the book.
In her December chapter, RHE does something so beautiful that it moved me to tears.
She talks about all the biblical women who were hurt by the patriarchal norms in their society.
She cites all the passages in the Old Testament that illustrate how terribly the laws treated women during biblical times.
She briefly tells the stories of several named biblical women, but the story that resonated the most is of the nameless daughter of Jephthah, the mighty warrior of Gilead in Judges.
The nameless daughter who dies as a burnt offering to God.
In the book of Judges, the women of Israel remembered the daughter of Jephthah, in an annual tradition now long lost.
To honor the women who were victims of rape and murder, RHE and her friend had their own ceremony, which included reading the relevant passages of the Bible, lighting candles, reciting poetry, and creating art in their memory.
These forgotten stories are why I can't be a Christian without being a feminist.
These women's fates are why I choose to interpret the Bible in a way that honors men, women, and children, in a way that puts love above all else. When I "cherry-pick" my Bible, I interpret the oppressive passages within their historical and patriarchal context, a choice Christ Himself often made when countering the Pharisees.
I think biblical womanhood is important. I think Christian women should turn to the Bible for inspiration on how we live our lives.
But if we aren't living our lives in a way that honors the women who came before us... that tries to make our world a better place for women today... that focuses on love and justice... then what are we doing with the lives God gave us?
This month, as we remember the Virgin Mary, let us also remember the other women in the Bible, the named and the unnamed. As we remember the humility of the Virgin Mary, let us also remember the courage of Esther, and the loyalty of Ruth, and the strength of Deborah.
Let us remember that we have more than
one way to be a biblical woman.
I'm linking up with Heather for Book Club Friday...
But I'm ALSO co-hosting the Fresh Face Fridays blog hop with Casey! I hope you'll add your link below.
Welcome to the
FRESH FACE FRIDAY BLOG HOP!
Rules for hopping:
1| Follow your host & co-hosts (first 3 links), pretty please!
2| Link up your blog's homepage or Bloglovin' page.
3| Hop around, meet new bloggers, and leave them love!
4| Have fun? Spread the word and share this blog hop with your friends!
5| Want to be a co-host? Click here for more info!
Grab a button and share the blog hop love!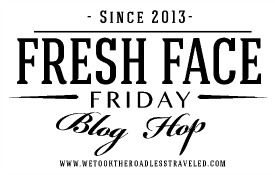 Tweet about this blog hop!
Tweet
*This post includes a single Amazon affiliate link.